bringing hope

in the midst of hardship
SEPTEMBER 24 @ 7:00 PM

ZoeCare's Annual Fundraising Banquet is going completely online this year!
It's been a tough year. Join us for ZoeCare's first-ever virtual banquet to be inspired and find hope in the midst of all that this year has brought. You won't want to miss this opportunity to hear from someone on the front lines leading the charge for life and purpose.
How to attend:
Register free of charge here or call (406) 586-9444.
A few days before the event, you will receive an email with final directions; or return to this page for instructions.
What you will need to watch the Viritual Banquet:

High-speed Internet connection
Computer with a web browser or Smart TV with web browser/YouTube app.

Tune in a little before 7:00 PM on September 24

Watching options:
1. Individually with computer or smart TV
On September 24, return to this page and click the Watch Now button and hit Play on the video between 6:45 - 7:00pm.
2. Host a Watch Party: Invite friends and family to watch at your home
When you register, let ZoeCare know that you will be hosting a Watch Party. We will get you an envelope with donation cards and coordinate drop-off and pick-up.

3. Go to one of three Watch Sites
Not wanting to hassle with technology? Go to one of the Watch Sites listed below and watch hassle-free:

Bethel Christian Reformed Church [Map]
7693 Churchill Rd.
Manhattan, MT 59741
Calvary Chapel [Map]
2270 Boot Hill Ct.
Bozeman, MT 59715
Grace Bible Church [Map]
3625 S. 19th Ave.
Bozeman, MT 59718

Additional Information:
1. ZoeCare will not be providing food
Yes, we call it a banquet, but this year the only food provided will be that which you provide yourself.
2. There will not be a live auction or raffle
Due to the online format, they had to be dropped.

3. The keynote speaker has been switched
Anthony and Cecelia Levatino were originally scheduled to be our keynote speakers for the banquet. They wanted to join us in person so they agreed to come next year. In their place, you won't want to miss the amazing Ryan Bomberger, a powerful and relevant voice for life.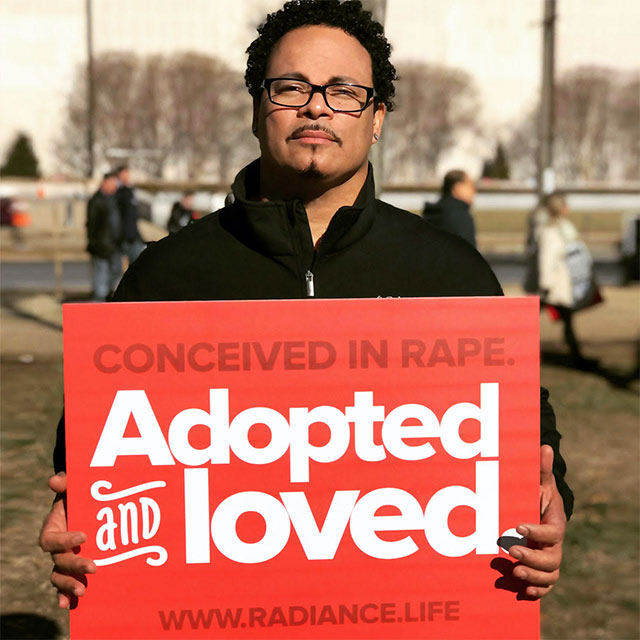 RYAN BOMBERGER
Though he was conceived in rape, Ryan's biological mother courageously chose life. Ryan was adopted at six weeks of age and grew up in a loving, multiracial Christian family. With thirteen siblings of varying ethnicities (10 of whom were adopted), he grew up with a great appreciation for diversity. His life defies the myth of the "unwanted" child, as he was adopted, loved, and has flourished. Today, he is an Emmy® Award-winning Creative Professional who founded The Radiance Foundation, a life-affirming organization, along with his wife, Bethany.
Click here for more information on Ryan.
Don't miss your opportunity to hear one of America's most fearless voices for life and purpose!